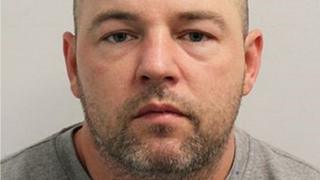 A man who carried out a string of sex attacks on 11 women and children across England over two weeks has been found guilty of 37 offences.
Joseph McCann's victims were aged between 11 and 71 and included three women who were abducted off the street at knifepoint and repeatedly raped.
The 34-year-old also raped a mother in her home and then tied her to a bed as he molested her son and daughter.
McCann, of Harrow, was found guilty of offences including rape and kidnap.
Afterwards the jury wrote in a note to the judge that it wished to acknowledge the bravery of the victims and the hard work of the police forces involved.
The Old Bailey heard how McCann's "spree of sex attacks" started in Watford before moving to London, Greater Manchester and Cheshire over two weeks in April and May.
On 21 April, he grabbed a 21-year-old woman at knifepoint off a street in Watford as she walked home from a nightclub.
She was bundled into a car and taken to a house where she was raped until being released later that morning in a "state of great distress", prosecutors said.
A 25-year-old woman was then abducted as she walked home in Walthamstow, east London, just after midnight on 25 April.
She was driven off in car then raped "many times" by McCann in a number of locations over 14 hours, including outside a school where he told her he "wanted to make her rape a child", prosecutor John Price QC said.
While she was still being held prisoner, he snatched a 21-year-old woman in Edgware, north London, as she walked along the street with her sister.
The court heard she "suffered a similar fate" to the 25-year-old woman. The pair finally managed to escape when McCann drove to Watford where he had booked a hotel room.
They hit him over the head with a vodka bottle and fled to get help from nearby workmen.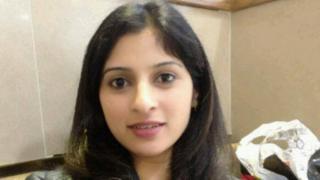 A man who shot dead his heavily pregnant ex-wife with a crossbow has been found guilty of murder.
Sana Muhammad was shot through the abdomen by Ramanodge Unmathallegadoo at her home in Ilford, east London, on 12 November 2018.
He hid in a shed in his ex-partner's garden armed with two crossbows, bolts, a knife, duct tape, cable ties and a hammer, the Old Bailey heard.
Mrs Muhammad's son survived after being delivered by Caesarean section.
The court heard the couple's relationship ended in 2012 after an incident which led to her jumping out of an upstairs window.
At a trial in 2013, a judge directed jurors to acquit Unmathallegadoo of attempted strangulation.
The mother-of-five then successfully filed for an emergency non-molestation order which barred the defendant from coming within 100 metres of the family home.
The order was still in place at the time of her attack.
Jurors heard Unmathallegadoo plotted the attack – buying two crossbows which were discovered near his ex-wife's home by a neighbour in March 2018.
After they were removed, he replaced the weapons and organised surveillance on the house in Applegarth Drive.
'She just screamed'
Mrs Muhammad's second husband Imtiaz told the court he was in the garden and thought he was "dreaming" when he saw the defendant step out of the shed with two crossbows.
He shouted to his wife to run as Unmathallegadoo chased him into their home.
"When she got an arrow she just screamed. I was thinking, 'what is happening?', I was screaming for her."
Mr Muhammad said the defendant had a second crossbow on his shoulder and he thought: "The second one might be for me."
Unmathallegadoo later claimed Mr Muhammad was his target but that his ex-wife got in the way.
The court heard Unmathallegadoo's children tried to take the crossbow away from him.
Unmathallegadoo, who denied murder, claimed he went to the house to talk to Mr Muhammad about his daughter's religion and said he had bought the weapons for a hunting holiday.
But the prosecution said Unmathallegadoo had planned to kill the couple and their unborn child.
Susan Krikler, from the Crown Prosecution Service said: "This was a cold-blooded and calculated execution.
"This devastating attack has left six children without their mother," she added.
residential pest control services